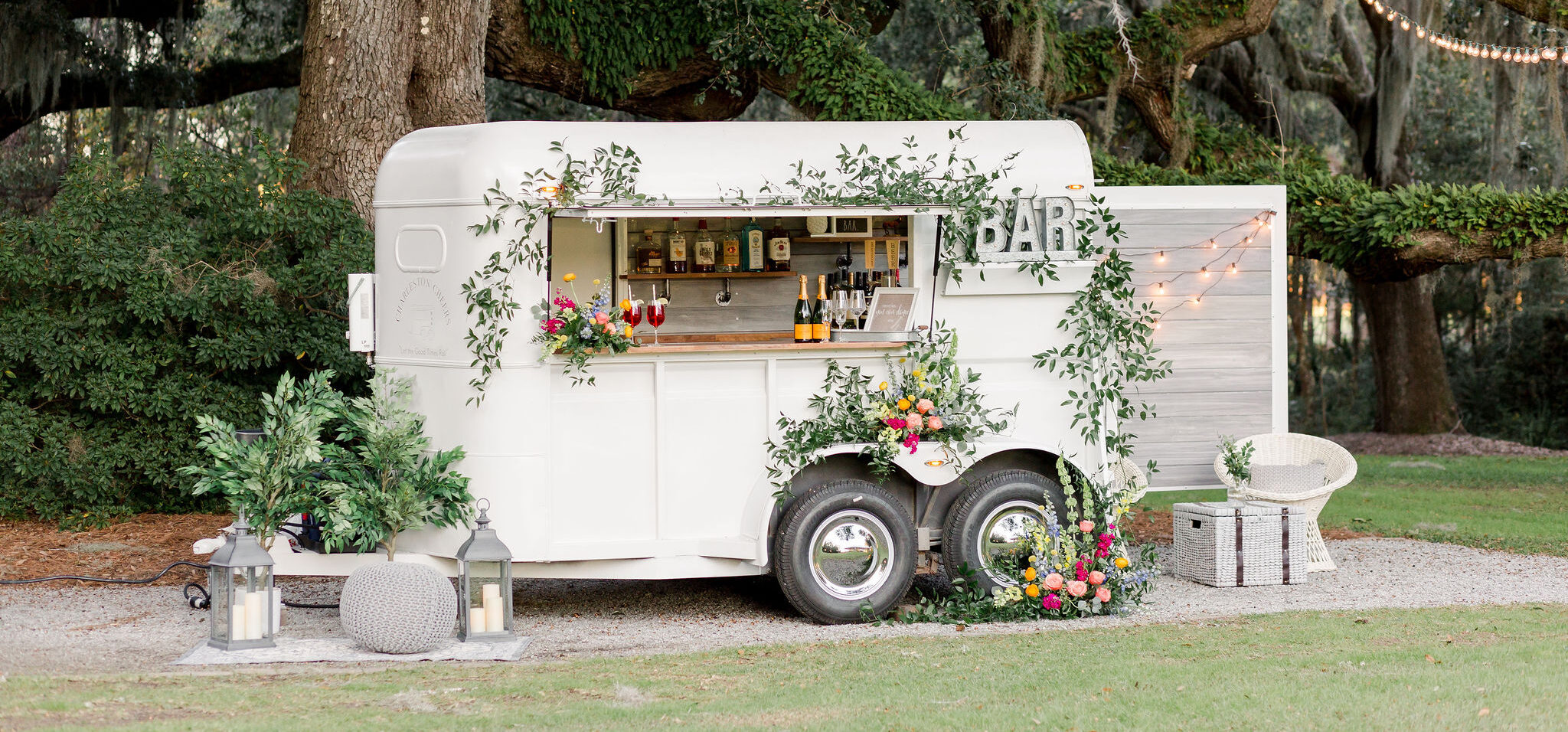 Charleston Cheers is a mobile bar service in the Charleston, SC area operating in a beautifully
full purpose, converted horse trailer. Weddings, Private and Corporate Events are sure to love
this wonderful addition to their outdoor party and our attention to detail will make your big day
stylish and professional.
With a sheltered wooden bar, 4 tap refrigeration system and a full lighting package, the trailer
adds dimension to open-air events with its photo-worthy decor and multiple lounge possibilities.
Charleston Cheers is passionate about delivering a high-quality bartending experience that
couples will cherish for a lifetime!
Charleston Cheers offers a variety of service packages. Couples and clients can tailor their bar
options with drinks of choice, suiting all needs and budgets. The featured packages include items
such as cups, napkins, coolers, ice, bartenders, General and Liquor liability, etc. The only needed
item outside of our services is your favorite choice of libations! Now Let The Good Times Roll!
What Our Clients Are Saying
We used Charleston Cheers for our wedding and they were fantastic. We had great communication, helped iron out a signature cocktail before the event, and were great in helping with the order and pickup of the drinks. Their service was top notch at the event, with a great setup with their trailer and bar table and their bartenders were a great addition to our event. Everyone loved them. I would highly recommend them for any event you are planning to have.
We couldn't have been happier about our Wedding Day experience with Charleston Cheers. Dave and Allison were super easy to work with throughout the entire process, and the result on the wedding day was incredible. Our guests raved about the the Charleston Cheers trailer, and I would recommend this service to anyone looking for a bar service, whether it is a wedding reception, or backyard BBQ!
Working with Dave and Charleston Cheers was a great experience! Dave was communicative and easy to work with throughout. The set up itself was amazing, and the guests loved both the look and the ambiance that the trailer created. I would recommend this to anyone interested in a cute, fun and easy way to take care of your bar needs for any event!
Dave and his team provided a great service for us! They were personable, knowledgeable, and accommodating. The variety of drink packages and options make it fit for just about anyone. The sidekick lounge is perfect for a photo op and fun touch! Recommend!